Northern Dewatering strives to supply customers with the best pumping equipment available on the market today and have been aligned with some of the best pump and equipment manufactures in the industry to make this happen. Our sales staff is experienced in a wide variety of pumping applications. Whether you are looking for a small pump and some hose to keep available in your truck or looking for high-volume or high-head pumps to pump down your mine, quarry or lift station, Northern Dewatering can assist making your projects profitable and efficient.

Cornell Pump Company
Cornell Pump Co. is a respected name for it's high quality centrifugal water and sewage pumps. Northern Dewatering has the capability of customizing Cornell pumps for many engine and electric drive applications. To visit Cornell Pump Company website
click here
.
---

Flygt Pumps
Flygt Pumps a xylem Brand is one of the worlds largest manufacturers of submersible electric dewatering, slurry, and sewage pumps. Northern Dewatering is the authorized Flygt sales and service representative for the construction and mining markets in Minnesota, North Dakota and South Dakota. To visit Flygt Pumps a xylem brand Company website
click here
.
---

Hydra-Tech Pumps
Hydra-Tech offers the highest quality hydraulic driven submersible pumps and diesel or electric driven power units available. Hydra-Tech pumps offer machined, cast iron wet ends which greatly exceed the quality of the fabricated steel pumps most commonly found in the industry. Hydra-Tech diesel and electric driven power units are available trailer or skid mounted. To visit Hydra-Tech Pumps Company website
click here
.
---

-
Pioneer Pump, Inc.
Pioneer Pump, Inc. has many different high performance pumps with superior workmanship and reliability factors. Pioneer is known as the world leader in high flow technology. Pioneer provides a large product line to move clear liquids and liquid wastes. To visit Pioneer Pump Company website
click here
.
---

Thompson Pump
For over 40 years Thompson Pump has been a full-service manufacturer and provider of high quality, high performance pumps ranging from 2-inch to 24-inch for areas such as public works, construction, agriculture, dewatering, mining, lift station water and wastewater bypass applications. Wet or dry prime, vacuum or compressor assisted, rotary or piston, Thompson has the right pump for you. To visit Thompson Pump Company website
click here
.
---
Featured Product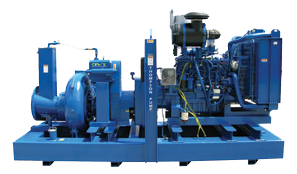 OVT Oil-Less Vacuum Technology Priming System by Thompson Pump
The groundbreaking Thompson Pump OVT (oil-less vacuum technology) Priming System offers multiple improvements to traditional vacuum priming systems. While both allow a basic pump to prime automatically, the OVT does so more efficiently with less maintenance and faster priming. Maintenance and operating expenses are less because the system is dry running – no recirculating oil is needed– a much improved eco-friendly alternative. In addition, non-contacting rotors eliminate wear which increases longevity and offers no decrease in performance over time. The Thompson OVT has extremely high vacuum even at lower speeds and is tolerant to accidental liquid carryover unlike others.
Priming System Benefits:
Dry Running – No sealing or lubricating oil is needed in the vacuum compression chamber
Ultra Low Maintenance – Unit only requires servicing at 20,000 hour intervals
Extremely High Air Handling – Faster priming times - 97cfm
High Vacuum Capability – Deeper suction lifts - 28.4" Hg
Efficiency – Low horsepower for high cfm
Longevity – Low Life Cycle Cost – Non contacting rotors eliminate internal wear
Air Cooling – No water levels to check and no oil system to maintain
Rugged – Tolerable to solids, liquids and dust
Reliability – No decrease in performance over time
Performance – Maintains vacuum at lower speeds
Versatility – Can be used on a variety of applications such as sewer bypasses and wellpoint dewatering
Economical – Operating costs are low because of the maintenance free design and the reduced energy requirement - made possible by the high volumetric efficiency along with a zero friction chamber
Eco-friendly – No sealing or lubricating oil provides for no oil or smoke pollution
Guaranteed performance
Able to be added to any Thompson centrifugal pump