Northern Dewatering specializes in the professional installation and management of bypass pumping systems. Working with the customer to engineer the correct bypass method, our experience and well trained employees are backed by the best equipment to assure a successful planned or emergency bypass system.

Northern Dewatering bypass pumping systems operate efficiently, effectively and keep the environment cleaner than the competition due to the no "blow-by" design engineered by Thompson Pump. These pumps have the ability to prime easily and handle large volumes of solids and air for continuous duty while keeping the environment protected from spills of effluent waste and other harmful materials.

Northern Dewatering has successfully completed sewer bypass pumping projects throughout the United States. Northern Dewatering is capable of subcontracting the full spectrum of bypass pumping projects ranging from 100 GPM (gallons-per-minute) to over 100 MGD (million-gallons-per day).

Contact Northern Dewatering today to assist you with any of your bypass pumping projects!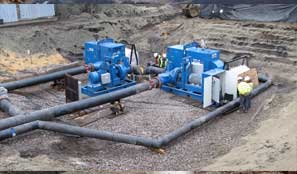 We have practical experience designing and implementing bypass pumping projects of all sizes, including flows in excess of 100,000 gpm. Our field expertise assures that each job will be properly engineered, installed and managed.