About Northern Dewatering
After 16 years of working for the largest dewatering contractor in the United States, John McShane founded Northern Dewatering, Inc. in 1984. Bolstered by a strong belief in integrity and customer service, John has built Northern Dewatering into one of the largest multi-faceted dewatering and bypass pumping companies in the midwest and beyond.
Northern Dewatering started as a pumping service company primarily involved in turnkey dewatering projects to the construction and mining markets in the region. Today, Northern Dewatering has successfully completed subsurface and above ground dewatering and sewer bypass pumping projects throughout the United States. Northern Dewatering is capable of subcontracting the full spectrum of dewatering and bypass pumping projects ranging from small wellpoint systems to complex deep well dewatering and sewer bypass pumping systems ranging from 100 GPM (gallons-per-minute) to over 100 MGD (millions-gallons-per day).

Northern Dewatering is Nationwide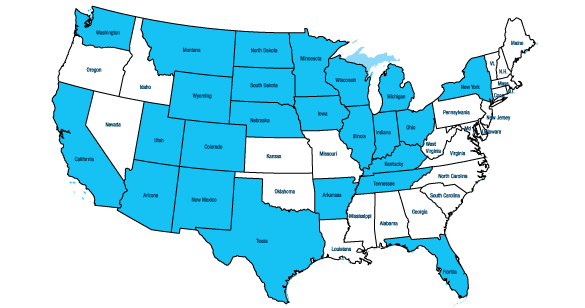 Blue Indicates States Northern Dewatering Has Completed Work In.



Northern Dewatering Strives
To provide the construction, mining and municipal markets with professional pumping services utilizing the highest quality and reliable pumping equipment available in the industry. Northern Dewatering has a highly experienced staff and extensive inventory and are ready to assist you with your pumping application today!
Largest Rental Inventories
Along with full-service dewatering and bypass pumping services, Northern Dewatering also maintains one of the largest rental inventories of pumps and pumping equipment in the region. From engine and electric driven end suction centrifugal and trash pumps, submersible electric and hydraulic driven pumps to generators ranging from 12kW to 300kW and more than 20-miles of HDPE pipe and hoses ranging from 2-inch to 30-inch, Northern Dewatering will have everything you will ever need for a successful and efficient pumping project.
NDI South Dakota Pheasant Hunt

In November 2012 NDI employees and Thompson Pump employees, spent a weekend chasing pheasants at Oahe Wings & Walleyes in Akaska, SD. Special thanks to Chad and Shonda Schilling for the excelent food, good times and great hunting.
3rd Annual MUCA Sporting Clays Tournament

The 3rd Annual MUCA event was held October 3rd at the Horse & Hunt Club in Prior Lake, MN. The fall day was windy and cold as MUCA members and their guests competed for prizes on a 12 station sporting clays course. The winning team for this event was the Northern Dewatering team: Miles Halvorson, Tony Munson, Erin O'Brien and Dan Barnes. A special congratulations to two of the three highest scores - Tony Munson and Dan Barnes from Northern Dewatering.